Portable Dew Point Meter and Moisture Analyzer for SF6 Gas and Other Compressed Gases.
Ennovacion instruments introduced a low cost 'excelencia' series (EDGXX-H) Portable handheld dew point meter and moisture analyzer optimized for sf6 gas and other compressed gas applications. It is specially designed to measure faster and accurately the performance of sf6 equipments. It is easily configurable for any Gas and could measure Dew point temperature at direct line pressure and also in atmospheric pressure. Our green technology serves you the best in its class power efficiency which ensures 70 Hours continuous running Battery backup with a single Cell.
"excelencia" series (EDGXX-H) portable dew point meter and moisture analyzer for gas is ideal for monitoring & supervising Power generation and distribution industrial applications including sf6 high voltage line insulator, transformers and Switchgear applications.
Features & Benefits of 'EDGXX-H' Portable Dew Point meters : -
State of the art Microcontroller based portable battery operated instrument. Complete Indigenous Robustly Designed for spot checking and Field calibration.
Digital Graphical Display Readout range -110° to +30° C dew point (other ranges also available). Accuracy of ± 1°C at low Dew Point Range.
Auto Ranging Facility for better analyzing low moisture level at a resolution of 0.001 ppm.

4 parameter displayed within single display window. Single Tuch Page Shifting.
Handle Samples Pressure up to 12 Kg/cm. and sensor withstands at condensation. Up to 90°C temperature can measure directly.
Quick disconnect fitting, desiccant test. Advanced User-friendly Interface and ease of operation. Handy and light weight instrument with IP65 protection (ATX Certified).
Inbuilt thin film water vapor sensor or Separate probe option available. 316 Stainless Steel sensor assembly and sampling system.
Optional two level user definable Alarm system. RS - 232 computer interface & data logger.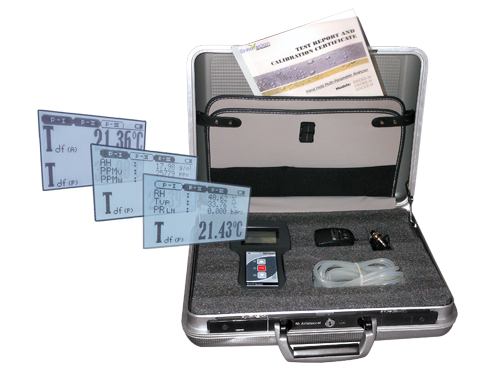 Analyze total '7' Parameters :
Temperature of the sample Air / Gas.
Dewpoint / Frostpoint temperature at Line pressure.
Dewpoint / Frostpoint temperature at Atmospheric pressure.

Relative Humidity (RH) percentage of the sample Air / Gas.
Absolute Humidity (AH) g/m3. of the sample Air / Gas.
Moisture content in PPMv. of the sample Air / Gas.
Moisture content in PPMw. of the sample Air / Gas.
Suitable Applications :-
Nitrogen Purging systems.
Transformer insulation drying process.
SF6 Gas quality monitoring.
Hydrogen Cooled Generators.
Hydro-Carbon Dew Point measurement.


An excellent Team of expertise & experience.
Superior Quality Control.
Sound knowledge of process engineering.
State-of-the Art Product features.
Durable and Economical.
Best output that satisfies customized demand.
Unmatched customer support system.
Total indigenous solution.


We are leading designer, manufacturer and supplier of Portable and Online Dew point Meter and moisture analyzer in india and have been supplying instruments to customers worldwide. We design, develop and produce dew point meter and moisture analyzers based on different application and for different medium such as for Transformer Oil, Hydraulic Oil, Compressed Air, SF6 Gas and Other Gasious compound. Our multidisciplinary team of scientists, physicians, engineers, and regulatory consultants with decades of global experience brings you the quintessential mechanism that provides .......Read more......


We Provide Quality Services to enable our Customers to perceive their actual necessities of measuring dew point temperature and moisture contents by expanding our multiple tasking engineering, by leveraging its Cutting Edge Technology to bring the best Quality Service and products. We offers a wide range of Portable and Online Dew Point Meter and Moisture Analyzer for Compressed Air, Nitrogen, sf6 Gas, mineral Transformer oil, Hydraulic oil and others lubricating oils . Read More.....